Home

/

How to choose the right spirit level
How to choose the right spirit level
A spirit level is a tool to help tilers decide if a surface is level (horizontal) or plumb(vertical). The word spirit refers to the liquid inside the glass vials , usually coloured spirit, to help reading the level measurement. They also are called bubble level, which refers to the air bubble trapped in the liquid inside the vials.
We consider spirit levels being among the most essential tools in a tiler's toolbox as it is an important tool to ensure a properly finished project.
There are many types of spirit levels available in the market. They come in different brands, colours, shapes, designs and materials. Although most of them will do the job to some degree, it is still important to choose the right spirit level that will give you accurate reading for years.
With many years of experience sourcing tools for the tiling trade, Amark Group believes the right spirit levels need to answer three key questions:
how easy it is to read the measurements?
how accurate is the level reading?
how durable are the materials?
Choose the right spirit level – how easy it is to read the measurements?
Let face it, to ensure your work is levelled, you will have to spend a lot of times looking at the little spirit vial with the barrel shaped bubble. The spirit vial is the most important component of the spirit level.
A good spirit level should have vials with magnified glasses for ease and accurate reading. It should also allow you to read the measurements and the levels from various angles.
How accurate is the level reading?
The best spirit level is accurate to within plus or minus 0.5mm/m. Most good spirit level manufacturers have this information available. Some, such as BMI spirit levels, even print their measurement accuracy on the products. It is important to check the level accuracy before purchasing.
Choose the right spirit level – how durable are they?
The durability of your spirit level means that you will have it to use for a long time. But its durability also affects its measurement accuracy. This is particularly true for longer spirit levels, as they are at higher risks of being bent or warped and therefore affects its accuracy.
Even though some plastic spirit levels are of high quality, we still prefer spirit levels that are made from aluminium for its strength, durability and they are not too heavy to handle.
Some spirit levels even come with shock-absorbing rubber endcaps to ensure its longevity and durability.
Choose the right spirit levels – other factors to consider
It is about choosing the right tool for the job and it is surely applied to spirit levels. Shorter level might be more useful for jobs in smaller spaces, while longer levels will give better accuracy over the distance. There is no surprise that some tradesmen's toolboxes consist of a few different spirit levels in different sizes.
Spirit levels, especially the longer ones, should come with more than one glass vial to allow your easy reading from different angles.
BMI spirit levels distributed by Amark Group
Amark Group choose to stock BMI spirit levels imported from Germany to provide tilers with the most reliable and accurate tool for level reading in the market.
The centre vial in the BMI spirit levels comes with magnified affect for an accurate and easy reading
BMI levels have the highest accuracy measurement (0.5mm / m) due to their ultrasonically welded vials. No more double bubble trouble.
BMI levels can also be used for inverted measurement, with 0.5mm / m accuracy.
BMI superstar levels have strong aluminium walls and shock-absorbing rubber endcaps for longevity of use and accuracy.
They come in a range of length sizes (from 300mm up to 2000mm) for ease and flexibility of use.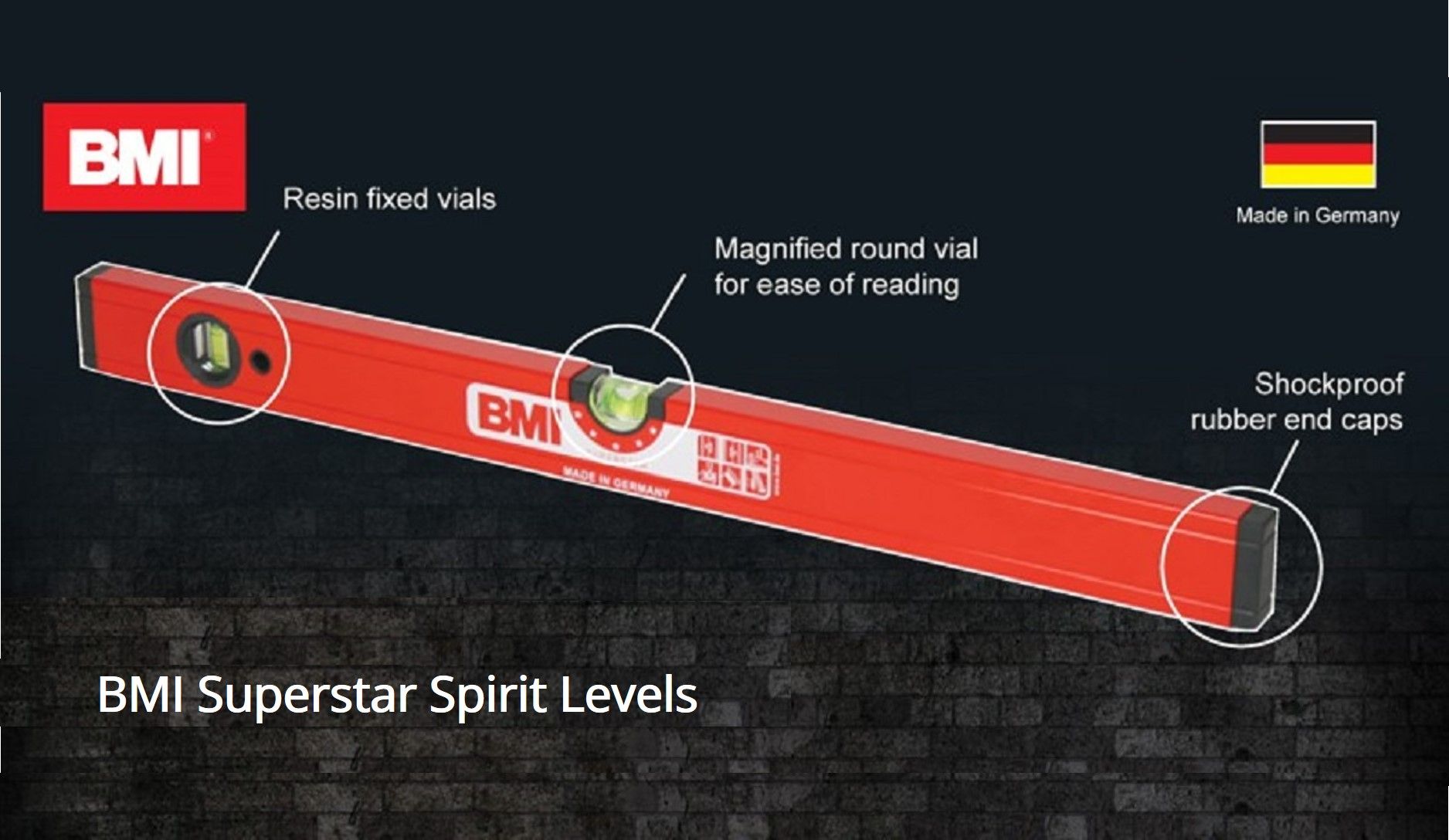 Tiling tools and equipment: Amark Group expertise
Amark Group stocks a large range of quality tools for professional tilers. Our tools are made from the best materials ensuring durability and reliability that will help you complete the job fast, efficiently and with the finest finish.
Our products are available nationwide in all leading tiling stores. Our friendly customer service team can also advise on our wide range of products and where to find them. Call us on 1800 804 297 or send us an online enquiry.