What to consider when looking for a tiling tool supplier?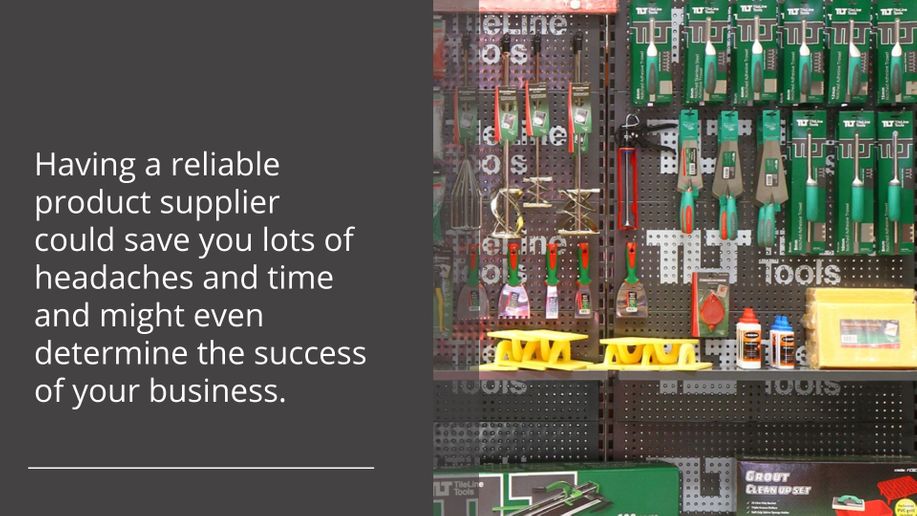 Are you looking for a reliable Tiling Tool supplier to ensure that your business is never out of stock of quality tiling tools and equipment? After all, having a reliable product supplier could save you lots of headaches and time and might even determine the success of your business.
However, how do you decide which supplier you should work with? Here are 5 questions you need to ask:
How big is the supplier's range of available products?
Running a business means you are always running out of time. There are just so many big and little things that need to be done and there is never enough time to do them all.
That is why it is important to consider a tiling tool supplier that can save you time by offering a large range of your required products. You can enjoy the convenience of a one-stop-shop and not wasting time looking and working with numerous suppliers. Consolidating your orders could also more likely give you a better volume discount.
At Amark Group, we carry a comprehensive range of tile trims, tiling tools and tiling equipment, everything you need for your business. We stock architectural tile trims for both decorative and functional purposes. Our tiling tools include hundreds of items, ranging from tile levelling products to the best quality diamond blades in the market.
What kind of product quality is offered by the tiling tool supplier?
It goes without saying that it is important for you to have quality products for your business. Whether you are running a shop that needs happy and returning customers, or a tiling business that needs your tools to last and therefore justify your investment.
At Amark Group, the quality of our products is our top priority and one of our key driving principles. We genuinely want to do the right thing for our customers by providing them with top quality products.
That is why we stock products only from the most trusted brands by the industry, including European brands such as Rodia electric tile cutters, Sigma manual tile cutters and BMI leveling products.
Our own premium brands OTEC Diamond Tools, TLT Tileline Tools consist of products developed from our many years of experience in the tiling industry and made by the world's best manufacturers. The quality of our products is further assured by our stringent quality control process, with the final try and test in-house by our own experienced technicians.
Does the tiling tool supplier offer timely delivery service?
These days having fast delivery is no longer a nice-to-have service, but in fact a-must-have service, an expectation you should have as a customer.
At Amark Group, we guarantee same day dispatch for all order placed before 3pm. This means that you will receive your orders the next day for Sydney metro and NSW. Delivery times for the rest of Australia are available upon request. If you need your products urgently, we can offer for Sydney metro 4 hour, 2 hour or direct courier service for a fee that is approved by you.
We also strive to deliver your orders in full as quickly as we can. That is why we ensure that our stock availability is clearly shown online once you log in to your account. If a particular item you want to order is out of stock, we display the date that the item is due back in stock so you can plan ahead.
We also notify you when the stock is back in inventory to make sure you will receive your orders as planned.
Do the staff working at the supplier have product knowledge?
With so many product choices in the market, it is sometimes hard to decide on the right products.
Working with Amark Group, you can be certain to receive knowledgeable assistance from our sales consultants, most of which have been working in the tiling industry for many years.
We make sure that all our staff go through regular product training and updates to stay constant. Our team is also consulted in the development of new products to ensure that our products meet the market demands and our customers' requirements.
Do they care about good customer service?
With all other factors being equal, one of the key questions you need to ask when choosing a tiling tool supplier is whether they provide good customer service. After all, a good supplier with great customer service could become an integral part of the future success of your business.
Is it easy to contact the supplier? Do they provide prompt response to your enquiries? Are they happy to talk to you?
Being a family owned business, at Amark Group we set ourselves apart from larger corporations with our exceptional customer service. Our team of sales consultants are always available to assist our customers and regularly pay them a visit. Our phone is open from 7am to 5pm (Monday to Friday) and any enquiry sent via email is promptly answered.
Our large inventory of stock, quality product range, experienced sales team, and efficient logistics systems allow us to serve our customers at a level that exceeds all others.
A bonus question for shop owners - Does the supplier offer good Point of Sales support?
Having the right products is great, however, displaying them nicely will help your customers choose and buy your products more easily and therefore increase your chance of success.
At Amark Group, we continuously put a lot of effort into developing great POS for our shop customers. We have display stands that help to clearly showcase products. Talk to one of our consultants for further information about our POS stands.
Make the right choice of tiling tool supplier to ensure the success of your business
At Amark Group, we understand the importance of having reliable suppliers for your business, as we ourselves have to rely on our network of suppliers to build our business.
Our network of suppliers was built through many years of sourcing products. We have a strong network of suppliers so you can rely on us as a supplier.
Secure Amark Group's Range of Tiling Products
At Amark Group, we provide you with the best quality tiling tools and products that will assist with any tiling project requirement. Each item in our range has been selected for its performance, durability, safety features and value. Our years of experience has given us valuable insights into distributors and builders' needs and has enabled us to provide comprehensive solutions to meet these demands.
For interested tilers, builders and contractors, you can purchase our products from our distributors. Find the nearest one through our Stockist Search Page by typing in your suburb/postcode. The page will give you a list of the nearest distributors in your area.
With Amark Group, you have easy access to the best products in the global tiling and stone cutting market. Download our buyers' guide and register to be one of our stockists today.