Large format tiles – what to know about this current design trend
One of the hottest design trends in recent years are the use of large format tiles. These oversized tiles were once used mainly for commercial projects due to the difficulty in sourcing and installing. However, with the help of modern manufacturing technology, large tiles can now be made more easily without compromising on strength and durability. They also come in various designs and sizes, making them fast becoming a popular choice for domestic projects.
The versatility of modern large format tiles also means they can be used for both the interiors and exteriors, for flooring and walls and even for building facades.
Here we explore why large format tiles are so popular right now and what is required when installing them.
What are large format tiles:
A large format tile is a tile with at least one side being 600mm or bigger. Some of the popular sizes for large format tiles include 600mm x 600mm, 750mm x 750mm, 600mm x 1200mm and 800mm x 1600mm.
Porcelain and ceramics were and still are two popular materials for large format tiles. However, in recent times, other materials such as printed concrete, wood and stone have increasingly become great alternatives to large porcelain tiles.
What are the benefits of large format tiles?
The key benefits of large format tiles is that there are fewer grout joints between the tiles. The bigger the tiles, the less grout there is, making a more seamless and clean

the

Less grout means it is also easier to clean and maintain the large tiles compared to smaller tiles with more grout lines.
Large format tiles can trick the eyes to think the space is bigger and more open than it actually is. That is why they are increasingly being used to finish a domestic bathroom or kitchen, where spaces are often more limited.
Contemporary design tends to favour the minimalist and clean look. Large format tiles and their lack of grout lines can really deliver that in spaces, keeping a space looking modern and clean for many years after its installation.
What to consider when installing large format tiles?
Fewer tiles to install does not always mean it is easier. Here are a few specific things to consider when installing large format tiles.
To achieve a seamless and perfect result with large format tiles, it is critical to ensure a flat and even surface before installing. Substrates preparation for walls and floors need to be perfectly flat and even.
Use the right adhesive and use it correctly. This is especially important for installing large format tiles on walls. Make sure you seek guidance from the adhesive manufacturers and follow their instructions.
Mechanical fixing is required when installing tiles on high walls and this is even more critical when installing large format tiles. Check out mechanical fixing for installing large format tiles on high walls at Angel Place, Sydney using Amark Group ALLTRIM geometric angles.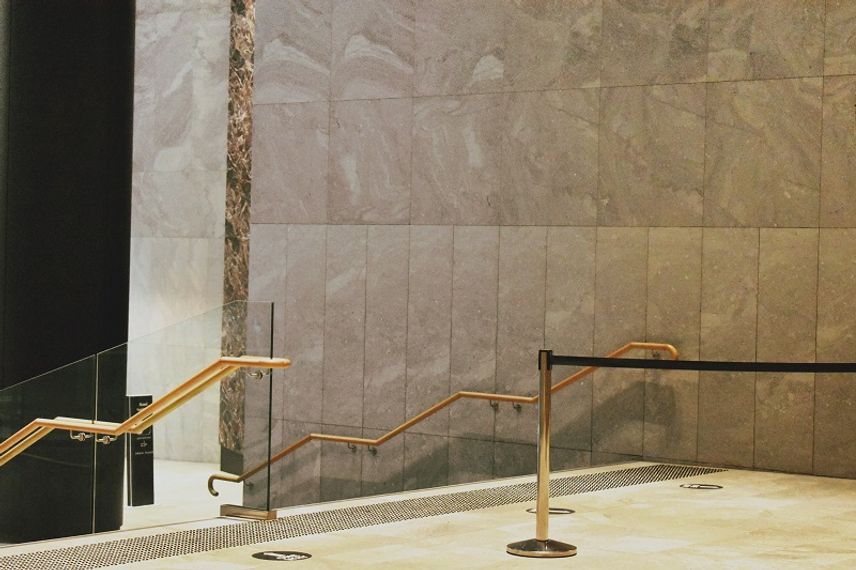 What tiling tools and equipment are required for installing large format tiles?
Having the right tiling tools and equipment will help make the job of installing large format tiles a lot easier, smoother and time-efficient. Here are a few tools and equipment that will help.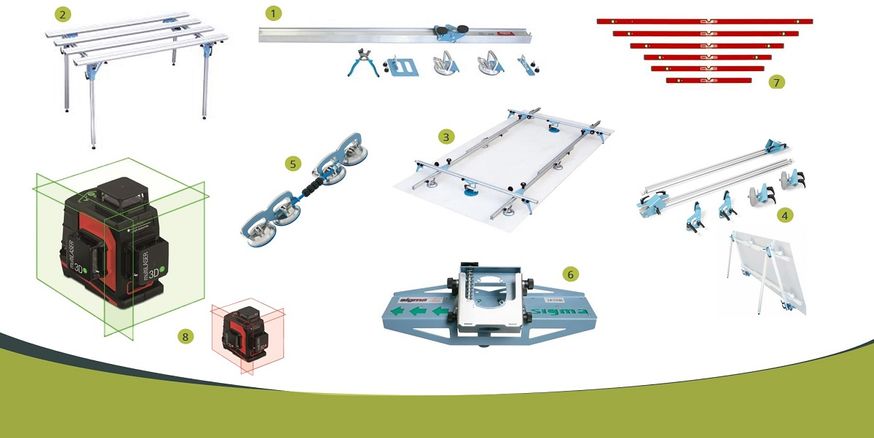 1. Kera Cut:
Sigma Kera Cut equipment is designed for precision cutting of large format tiles. Depending on the Kera Cut model, it can cut tiles up to 3320mm. It comes with the divisible aluminium guide, fixed to the tile by stain-free suction cups. A triple ball bearing system makes scoring the tile smooth and accurate.
At Amark Group, we have Sigma Kera Cut in different sizes, ranging from 152cm ART8C2, to 201cm ART8D2 and all the way to 332cm ART8AE2.
2. Cutting Table:
A strong and sturdy and flexible table is critical in assisting operators to manage large format tiles. At Amark Group we stock Sigma cutting tables ART63E and ART63F, which were designed as a demountable and modular workbench assisting with easy cutting and handling of large format tiles.
Made from aluminium, it is light but sturdy. The easily positioned aluminium planks help create space for easy cutting of holes and pockets. It is also possible to add or move planks to create a continuous worktop.
3. Kera Lift
Ideal for handling and laying of large format tile, Kera Lift equipment ART1A4, ART1A5 comes with strong but stain-free suction cups, freely modifiable without the use of tools, and composed by guides sliding between them to adapt to any shape of the slab. The suction cups can slide along the profile to adapt to any need.
Sigma Kera Lift ART1A4 and ART1A5 can handle tiles up to size 340cm x 160cm.
4. Kera-Lift Carriage Kit
Used for holding large tiles upright when transported the Sigma Kera-Lift carriage kit ART305 consists of 2 wheels, 2 plate supports and 2 openable legs. To be used in conjunction with the Sigma Kera-Lift.
Tips: we recommend at least two operators when handling and lifting of large format tiles.
5. Sigma Kera Move Suction Cups ART51G:
Strong stain-free suction cups ART51G for correct alignment of large format tiles. Can also be used on rough materials.
6. Sigma Jolly Edge
Jolly Edge ART37A2D Sliding resting on the edge of the tile / slab (stoneware, marble, granite, etc.), ensures the uniformity of the mitre along the entire length of the edge worked, copying exactly the physiological shapes of the slab, which would not be possible with a cutter guided by a rigid guide.
7. BMI Spirit Levels:
A professional heavy duty, powder coated aluminium box section level made in Germany, BMI Spirit Levels assist tilers in achieving a perfect levelling floor or wall. With measuring surfaces machined on one edge and magnified centre vial for an accurate and easy reading, they are available at Amark Group ranging in sizes from 300mm to 2000mm.
8. Laser Levels:
BMI Multilaser 3D Levels help to provide an accurate level reference. They are used for leveling floor, align and plumb walls, tile alignment and many other applications. Amark Group stock a range of BMI laser levels, with the newest additions to our range includes BMI Multilaser 3D Levels with green and red beam, codes 654-3DG and 654-3DR.
Secure Amark Group's Range of Tiling Products
At Amark Group, we provide you with the best quality tiling tools and products that will assist with any tiling project requirement. Each item in our range has been selected for its performance, durability, safety features and value. Our years of experience has given us valuable insights on distributors and builders' needs and has enabled us to provide comprehensive solutions to meet these demands.
For interested tilers, builders and contractors, you can buy our products from our distributors. Find the nearest one through our Stockist Search Page by typing in your suburb/postcode. The page will give you a list of the nearest distributors in your area.
With Amark Group, you have easy access to the best products in the global tiling and stone cutting market. Download our buyers' guide and register to be one of our stockists today.