Home

/

New stainless steel tile trims by Amark Group – ALLTRIM L Profile Angle in gold finish
New stainless steel tile trims by Amark Group – ALLTRIM L Profile Angle in gold finish
Introducing a new stainless steel tile trim by Amark Group - ALLTRIM L Profile Angle, now comes in various shades of gold. These bespoke tile trims are the newest addition to the constantly expanding collection of Amark Group's ALLTRIM architectural tile trims.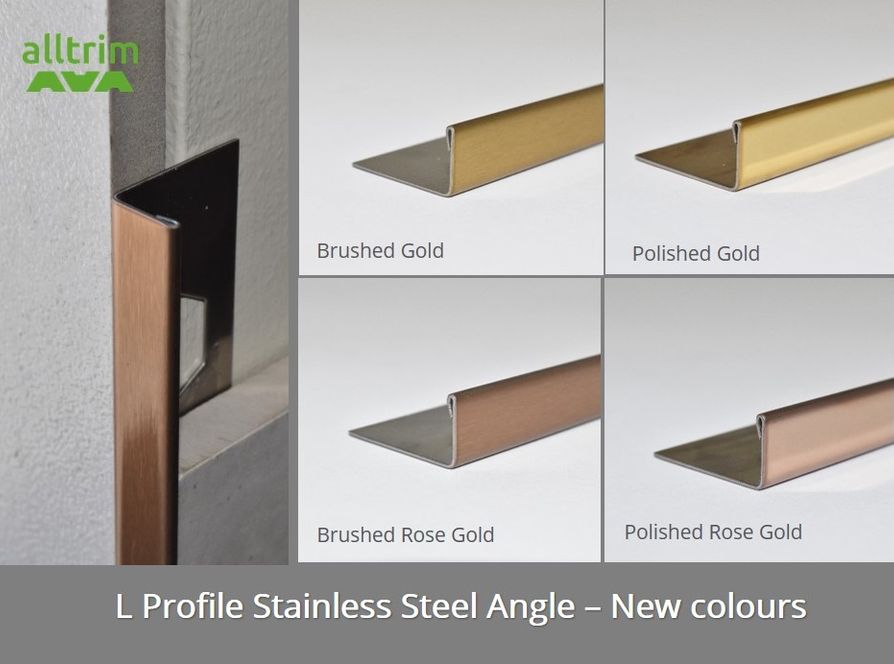 Refined and elegant, L Profile angle provides an architectural finish to a tiled project, at the same time it protects tile edges and corners. Being one of the most popular tile trims by Amark Group, it is now available in four different gold finishes, including brushed gold, polished gold, brushed rose gold and polished rose gold.
Made from high grade stainless steel, this new angle is perfect to finish a tiled bathroom or kitchen, where higher abrasion resistance is required. It also comes in a range of sizes to suit any project.
Gold colour as an architectural finish
Being a rare mineral, gold has been long associated with nobility and status. Gilded gold for centuries has been used for exterior and interior decoration as a symbol of wealth, luxury and success.
The yellow hue of gold pairs well with many colours. Most common pairing is with white, the most popular colour used for bathrooms and kitchens. Gold colour also goes well with black and grey, the two recent on-trend colours dominating modern interior design.
An example is the use of gold colour in David Jones flag ship store in Sydney. It is an elegant contrast to black trims and furniture fitted throughout the store and gives shoppers a glamorous and luxury shopping experience. The newly renovated store was installed with Amark Group's ALLTRIM tile trims in golden hue to give it an additional touch of dazzling sparkles.
With the continuing popularity of the metallics trend in design, gold with its timeless sophistication is set to stay long into the future of architectural finish.
What are the advantages of stainless steel tile trim
Tile trims can be made from many materials, each has their own merits. So what are the advantages of stainless steel tile trims.
One of the biggest advantages of stainless steel is its high resistance to corrosion, making it ideal to use in a wet environment. This advantage makes stainless steel tile trims ideal for use in bathrooms, with 316 grade stainless steel can often be installed around swimming pools.
Stainless steel is non-porous therefore it is easy to clean. It is also resistant to fire and heat, which makes stainless steel tile trims popular for use as finishes in kitchens.
Stainless steel tile trims are popular for their silver metallic look. But stainless steel can also be powder-coated to achieve other desired colours without losing its strength or durability.
Amark Group has chosen gold finish for our recently launched range of L Profile Stainless Steel Angle to give architects and designers more freedom in their design with stainless steel.
Tile trims made from stainless steel can have a long life of usage due to their strength and corrosion resistance. It is also a recyclable metal, which makes stainless steel tile trim one of the most environmentally friendly materials.
Architectural Tile Trims from Amark Group
Amark Group's range of architectural tile trims are made with quality materials and manufactured with stringent quality control standards. They were designed after extensive market research to satisfy the most demanding applications.
We have architectural trims for public and high traffic areas and indoor and outdoor applications, available in a range of profiles and complex shapes as well as designer colours.
Our tile trims are made from stainless steel, aluminium, brass and high-grade pvc, offering style, function and durability. From flat bars to round and square-edged trims, our range of products gives projects a level of sophistication that spells out high value. With our commitment to providing the best products, each of our trims is hand-picked for their quality and performance and sourced from trusted manufacturers.
For interested tilers, builders and contractors, you can purchase our products from our distributors. Find the nearest one through our Stockist Search Page by typing in your suburb/postcode. The page will give you a list of the nearest distributors in your area.
For retailers, with Amark Group, you have easy access to the largest range and the best products in the tiling industry. Download our buyers' guide and register to be one of our stockists today.